Diversity Book Group

Contact: Lorrie McKinley & Debby Kern    Email: diversity-book-group
Mission: To explore a variety of "differences" through both literature and film, so that we may better understand ourselves and others thereby promoting social justice on a personal level.
The Diversity Book Group meets monthly August through May plus an annual end-of-the-year pot luck celebration to select books for the coming year. The group is loosely organized to explore a variety of differences in a relaxed and safe environment. Participants volunteer to act as facilitators. The group makes every effort to select books/films that are available in audio/descriptive formats in order to be inclusive and welcoming to all.
2021-22 Selections
Sep: Go Tell It on the Mountain by James Baldwin
In one of the greatest American classics, Baldwin chronicles a fourteen-year-old boy's discovery of the terms of his identity. Baldwin's rendering of his protagonist's spiritual, sexual, and moral struggle of self-invention opened new possibilities in the American language and in the way Americans understand themselves.
With lyrical precision, psychological directness, resonating symbolic power, and a rage that is at once unrelenting and compassionate, Baldwin tells the story of the stepson of the minister of a storefront Pentecostal church in Harlem one Saturday in March of 1935. Originally published in 1953, Baldwin said of his first novel, "Mountain is the book I had to write if I was ever going to write anything else."
Oct: Caste by Isabel Wilerson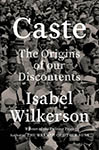 In this brilliant book, Isabel Wilkerson gives us a masterful portrait of an unseen phenomenon in America as she explores, through an immersive, deeply researched narrative and stories about real people, how America today and throughout its history has been shaped by a hidden caste system, a rigid hierarchy of human rankings.
Beautifully written, original, and revealing, Caste: The Origins of Our Discontents is an eye-opening story of people and history, and a reexamination of what lies under the surface of ordinary lives and of American life today.
Nov: The Exiles by Christina Baker Kline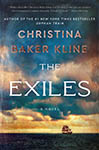 In this gorgeous novel, Christina Baker Kline brilliantly recreates the beginnings of a new society in a beautiful and challenging land, telling the story of Australia from a fresh perspective, through the experiences of Evangeline, Hazel, and Mathinna. While life in Australia is punishing and often brutally unfair, it is also, for some, an opportunity: for redemption, for a new way of life, for unimagined freedom. Told in exquisite detail and incisive prose, 
The Exiles
 is a story of grace born from hardship, the unbreakable bonds of female friendships, and the unfettering of legacy.
Dec: In the Heights (Film directed by Jon M. Chu)
From the creator of Hamilton, and the director of Crazy Rich Asians we invite you to a cinematic event where the streets are made of music and little dreams become big…In The Heights. Our piano/vocal selections songbook features 13 songs from the 2021 film based on the four-time Tony Award-winning show. Original, full-color photography and movie artwork are included within this beautifully packaged portfolio. Lin-Manuel Miranda's kinetic music and lyrics capture a world very much of its place, but universal in its experience.
Jan: Their Eyes Were Watching God by Zora Zeale Hurston
A classic of the Harlem Renaissance, this beautiful, haunting story follows a woman's search for love, independence and, ultimately, self-discovery. A lyrical novel that has become a Southern masterpiece, this is a story that deserves to be read, re-read and savored.
One of the most important and enduring books of the twentieth century, Their Eyes Were Watching God brings to life a Southern love story with the wit and pathos found only in the writing of Zora Neale Hurston. Out of print for almost thirty years—due largely to initial audiences' rejection of its strong black female protagonist—Hurston's classic has since its 1978 reissue become perhaps the most widely read and highly acclaimed novel in the canon of African-American literature
Feb: Miracle at St. Anna by James McBride
James McBride's powerful memoir, The Color of Water, was a groundbreaking literary phenomenon that transcended racial and religious boundaries, garnering unprecedented acclaim and topping bestseller lists for more than two years. Now McBride turns his extraordinary gift for storytelling to fiction—in a universal tale of courage and redemption inspired by a little-known historic event. In Miracle at St. Anna, toward the end of World War II, four Buffalo Soldiers from the Army's Negro 92nd Division find themselves separated from their unit and behind enemy lines. Risking their lives for a country in which they are treated with less respect than the enemy they are fighting, they discover humanity in the small Tuscan village of St. Anna di Stazzema—in the peasants who shelter them, in the unspoken affection of an orphaned child, in a newfound faith in fellow man. And even in the face of unspeakable tragedy, they—and we—learn to see the small miracles of life.
Mar: The Island of Sea Women by Lisa See
Set on the Island in Korea, this book follows two girls from very different backgrounds as they begin working in the sea with their village's all female diving collective. Over many decades —through the Japanese colonialism of the 1930's and 1940's WWII, and the era of cellphones and wet suits for the women divers — MI-ja andYoung-sook develop the closest of bonds. The women are in charge engaging in dangerous physical work and the men take care of the children.

Apr: Erotic Stories for Punjabi Widows by Balli Kaur Jaswal
Nikki lives in cosmopolitan West London, where she tends bar at the local pub. The daughter of Indian immigrants, she's spent most of her twenty-odd years distancing herself from the traditional Sikh community of her childhood, preferring a more independent (that is, Western) life. When her father's death leaves the family financially strapped, Nikki, a law school dropout, impulsively takes a job teaching a "creative writing" course at the community center in the beating heart of London's close-knit Punjabi community.
Because of a miscommunication, the proper Sikh widows who show up are expecting to learn basic English literacy, not the art of short-story writing. When one of the widows finds a book of sexy stories in English and shares it with the class, Nikki realizes that beneath their white dupattas, her students have a wealth of fantasies and memories. Eager to liberate these modest women, she teaches them how to express their untold stories, unleashing creativity of the most unexpected—and exciting—kind.
As more women are drawn to the class, Nikki warns her students to keep their work secret from the Brotherhood, a group of highly conservative young men who have appointed themselves the community's "moral police." But when the widows' gossip offers shocking insights into the death of a young wife—a modern woman like Nikki—and some of the class erotica is shared among friends, it sparks a scandal that threatens them all.
May: Where the Crawdads Sing by Delia Owens
For years, rumors of the "Marsh Girl" have haunted Barkley Cove, a quiet town on the North Carolina coast. So in late 1969, when handsome Chase Andrews is found dead, the locals immediately suspect Kya Clark, the so-called Marsh Girl. But Kya is not what they say. Sensitive and intelligent, she has survived for years alone in the marsh that she calls home, finding friends in the gulls and lessons in the sand. Then the time comes when she yearns to be touched and loved. When two young men from town become intrigued by her wild beauty, Kya opens herself to a new life–until the unthinkable happens. Perfect for fans of Barbara Kingsolver and Karen Russell, Where the Crawdads Sing is at once an exquisite ode to the natural world, a heartbreaking coming-of-age story, and a surprising tale of possible murder. Owens reminds us that we are forever shaped by the children we once were, and that we are all subject to the beautiful and violent secrets that nature keeps.