Children & Youth Overview

Director of Lifespan Faith Development, Cassie Lengel
Office tel: 610-692-5966
---
2021-2022 Program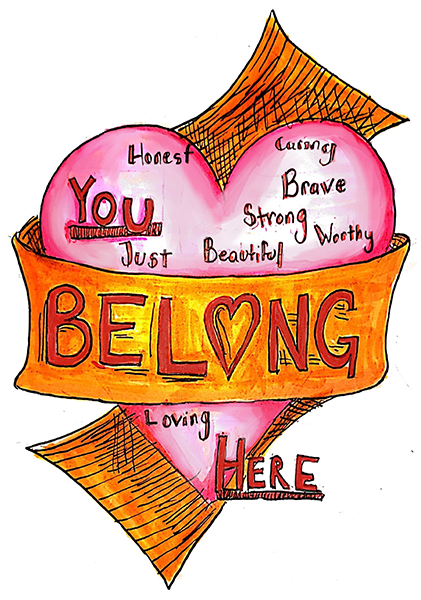 Welcome back to another year of Religious Education (RE) here at the Unitarian Congregation of West Chester (UCWC)! We are very excited to be back together again, and we are working hard to offer various ways of connecting with our RE Community, both on zoom and in person, to help everyone feel safe.
As you can see, we've got a new theme for this 2021-22 year! Our theme this year is BELONG, and our image was created by our very own Manfried Hatch – thank you so much!
Belonging is such a crucial part of being in community with one another. This image helps us to remember that we always have a place where we are supported, and where we can bring our authentic self! We create a place of belonging for ourselves and for one another where we are honest, caring, beautiful, loving, strong, worthy, brave, just, and so much more. What does it mean to belong somewhere? What does it feel like when you belong? How does it feel to be welcomed by others and to welcome them back? We will use our time together to take these questions to heart as we journey together in RE this year.
Our children and youth are invited to join their individual classes to explore a lesson more in depth. This year our curricula are focused on World Religions as we explore what others believe, what our big questions are, and how we can build better relationships together. We also look forward to outside RE, social justice projects, holiday parties, fun and games and crafts, and our group search to welcome belonging into RE!
We are especially excited to offer the Our Whole Lives (OWL) class to our youth in eighth and ninth grades. And we invite all our high school youth in grades eight through twelve to join us for our monthly Youth Group events!
Part of Belonging is knowing that what we do in our classes and groups is not just about learning, but it is about the process of gathering together, forming relationships, experiencing something new, and figuring out what we think about it. This year we will take extra time to explore what our youth are interested in and to evaluate what they are learning about.
We hope you will remember, no matter what level of involvement your family can engage, that you have a community that is here for you and that you belong here.
For more information on what we are doing in regard to COVID-19, please see the tab: RE Sunday Schedule.
In a welcoming, accepting, and fun environment, children from Pre-Kindergarten through 8th grade are invited:
to explore what it means to be Unitarian Universalist
to learn about our Judeo-Christian roots
to gain first-hand knowledge of other faiths
to engage in worship and activities with members of all ages
to make a difference in the local community and the world through hands-on social action projects
Younger children also enjoy:
skits and crafts
occasional "Group RE" days, with special activities in a one-room-schoolhouse environment
Overall, we are guided by the seven Principles of Unitarian Universalism, which describe how we covenant to live with each other and in the world.
Young people have always been an important, cherished part of our congregation and we have provided religious education classes since our founding in 1954.