Refugee Resettlement Project
Contact: Linda Sander     Email: social justice
Description: UCWC is partnering with local faith organizations and individuals to resettle a refugee family in our local community.
Our Facebook Page: Click here
Who We Are
What We're Doing
Task List
Donate
News!
The sponsoring organization is
Church World Service
(CWS) in Lancaster. CWS is one of nine domestic non-governmental organizations that assists refugees in cooperation with the State Department. UCWC is joining them with other local faith organizations to cosponsor a refugee family to be resettled in our area.
The purpose of the program is to provide support and services to assist newcomers to our community in building lives in peace and dignity in the United States.The primary financial challenges for settling a family are finding affordable housing and a job. Families also face difficulties adapting to the language, culture, and structure of American life. Post-Traumatic Stress Disorder is not uncommon.
As partners, our coalition is expected to provide startup expenses for housing, groceries, and other needed items. Volunteers can help with these committees (chairs in parentheses):
Housing & Material Goods (Abdul Mughees, Islamic Society of Chester County, & Lauren Buckalew, Birmingham Meeting)
Transportation (Shelly Case, UCWC, & Gwynne Ormsby, Birmingham Meeting)
Orientation (Susan Brodesser, Birmingham Meeting)
Education & ESL (Lori Ratajczak, UCWC)
Employment (Sandy Gera, UCWC)
Fundraising & Finance (Gwynne Ormsby, Birmingham Meeting)
Online Oversight (Lauren Buckalew, Birmingham Meeting)
Public Relations (Steven Crisafulli, community volunteer, & Arlene Rengert, Grove Methodist)
There's a lot of work yet to be done. To download the Church World Service time line and task list, click here.
Financial donations are welcome. Please write a check to "UCWC" with "Refugee Resettlement" in the memo line. Put it in the collection plate, or mail it to UCWC, 501 S. High Street, West Chester, PA 19382
The family has now been here for nine months, and they are becoming more independent. The parents and oldest daughter will not have jobs at West Chester University during the summer, so employment referrals are welcome. The family has become fairly independent regarding transportation. The children are playing on soccer teams.
Isaac and his family attended Westminster Presbyterian Church in April, where he spoke briefly without notes.
Areas where help is still needed are tutoring and employment. To offer help, contact Shelly Case (transportation), Lori Ratajczak  (tutoring), and Sandy Gera (employment). They can be reached at email: refugee-resettlement.
UCWC is part of the West Chester Area Refugee Resettlement Project.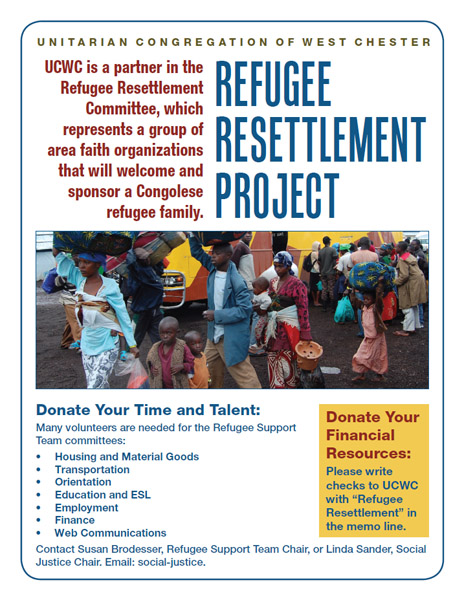 Click HERE to download/view flyer.